Hello everyone and welcome to the 2015 Grow Your Blog event hosted by Vicki at
2 Bags Full.
This is a blog event to bring more readers and followers to your blog. Most importantly, it's to make new friends from around the world!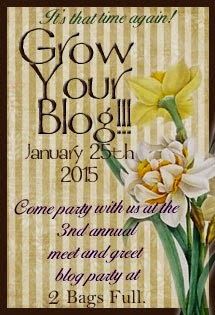 My name is Kelly Deal and I've been married to Ed for almost fourteen years and have a little fur child named Dexter. I live in the Chicagoland area, about 30 minutes southwest of Chicago. I started blogging, in 2010 and I love it, yet sometimes I can get into that blogging rut and it feels like I have nothing to blog about, but I get over it eventually! I'm a Youth Job Coach who worked hard for my Masters Degree in School Guidance and Counseling. I love to travel and create. My hobbies include reading, walking among nature, bird watching, gardening, scrapbooking/card making and creating just about everything! Below is what my work table looks like right now, it's in total shambles. I tend to work on more than one thing at once! Not good!!! I love vintage, glitter, paint, lace, fabric, patterned paper, markers, paper and fabric flowers, vintage images, rubber stamps, buttons and found bits and bobs that can be used in my creative process!
I'm trying to complete an album of the gorgeous
Elizabethan Gardens
located on Roanoke Island in the Outer Banks North Carolina, but I'm also in the midst of creating lovely things for Valentine's Day! Oh I wish I could be home all day and just create! There is never enough time in the day to do what you love! The next creative endeavor I would love to try out would be
Project Life
. I'm not sure when I'll start that, because I made a vow to complete a 2014 December Daily and that never happened! Oh well, we can only do so much! I've learned to enjoy the creative process, not be in a rush to see how many scrapbook pages I can complete in a month! My favorite quote is from Vivien Leigh from the movie Gone with the Wind, "after all tomorrow is another day."
Ok, enough about me! Here is the fun part! I'm having a Grow Your Blog giveaway, because I want to! It's
NOT
a requirement to become a follower of my blog, but it would be kind of cool if you did! Anyone can enter and anyone can win, even if you do live outside of the United States. Just leave your name and contact information in the comment section of this post! The winner will be announced on my blog on February 15th, so you have until midnight February 14th to enter. You will win both pretties below, a je t'aime sign and a tulle heart, both made by me and ready for hanging. I know my giveaway looks like Valentine's Day, but if you like Shabby Chic and or the romantic look, what's wrong with keeping these two beauties up all year right? Good Luck!!!!
Last, but not least, thank you for coming over to say hi and I hope we become life-long friends! I can't wait to meet everyone else!